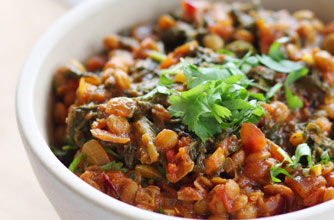 Lentil and spinach balti
Why so healthy?
Lentils really are the perfect ingredient to have in a vegetarian dish as they're bursting with protein which you'd usually get from meat - lentils also help to lower cholesterol. Handfuls of iron-rich spinach and you've got a winner!


Calories:
313 cals per portion

Fat:
7.7g per portion

Time it takes to make:
20 mins

Top tip:
You could use curry powder instead of curry paste - whichever you've got in your cupboards!

Get the recipe: Lentil and spinach balti