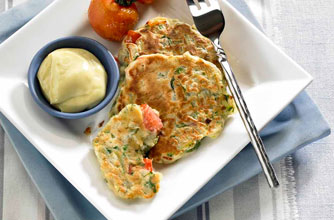 Courgette fritters
Why so healthy?
These tasty courgette fritters are so easy to make plus they're very very low in calories too thanks to the main ingredient being a vegetable. Just serve with some couscous or quinoa and some fresh salad leaves and you've got a light and healthy dinner.


Calories:
137 cals per portion

Fat:
9g per portion

Time it takes to make:
25 mins

Top tip:
You can use semi-skimmed or even skimmed milk when making these fritters to cut down the fat count.

Get the recipe: Courgette fritters