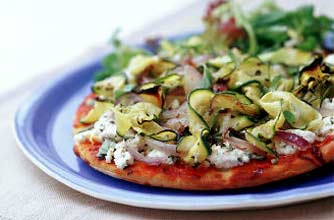 Courgette, red onion and ricotta pizza
Why so healthy?
Pizza can be a pretty healthy option if it's made from scratch. This recipe swaps classic mozzarella for ricotta cheese which is much lighter and uses courgette which has a high water content meaning fewer calories.


Calories:
270 cals per portion

Fat:
11g per portion

Time it takes to make:
30 mins

Top tip:
Why not make your own pizza base? Follow our step-by-step
how to make pizza recipe
.

Get the recipe: Courgette red onion and ricotta pizza