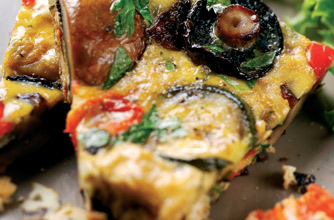 Roasted vegetable bake
Why so healthy?
If you fancy trying something different for dinner this eggy vegetable bake is the perfect choice. Made with plenty of veggies and protein-packed eggs, this recipe combines all the ingredients together and involves baking rather than frying, making it much healthier.


Calories:
197 cals per portion

Time it takes to make:
45 mins

Top tip:
Serve this eggy bake with a freshly prepared salad for a light dinner. If there's any leftover you could have it for lunch the next daytoo.

Get the recipe: Roasted vegetable bake