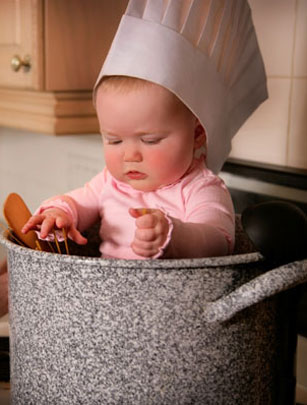 10. Get the family involved
Si says:
'If you're making diet food - donít tell the kids, if it's great food, they wonít notice. Itís important to get kids involved in cooking too - they'll love it, Dave does it with his kids, I do it with my kid. Thatís how I got my interest in food, at my mumís apron strings. We used to bake bread together and it was brilliant. An inherent interest in food from an early age is a good thing because from that you get an knowledge of food - whatís available when, whenís the best time to buy stuff. Itís all about that passing on of knowledge and skills, which fundamentally is what parents are put on this planet for, I guess.'

We say:
Your family might not be wild on the idea of swapping their favourites for low-fat versions as thereís always that stigma attached that diet food isnít tasty. It most certainly can be though with a few clever tricks or replacement ingredients.


Put it into action:
Get your little ones helping out in the kitchen with our
cooking with kids recipes.

Where to next?

Dave and Si, the Hairy Dieters, have recently launched five low-fat cooking sauces, based on recipes from their best-selling book How to Love Food and Lose Weight. The new range is available to purchase in selected Morrisonís stores with an RRP of £1.99.