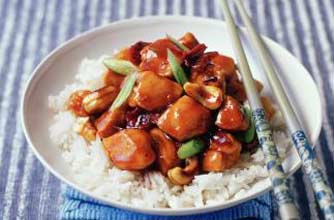 High protein foods: Pork
Protein per 100g:
There is about 25g of protein in a 100g serving of pork which is around half of your average RDI.


High protein recipes to try:
Our Sichuan pork stir-fry recipe combines pork and handfuls of cashew nuts together to make a protein-packed dish. You could make this dish even healthier by swapping the rice for couscous or quinoa (another source of protien) instead.

Paella is a great recipe when you're trying to get protein into your diet in bulk. Our traditional Spanish paella uses pork, chicken, chorizo and prawns which means you won't have to have a big portion and you'll be full to the brim in no time!
Ditch the sauce and make this light and healthy pork and cashew nut stir-fry in just 25 mins. The more nuts you add, the better.

Healthy cooking tip:
Make sure you cut off all the fat from your pork before cooking. This will decrease the calorie and fat count straight away.