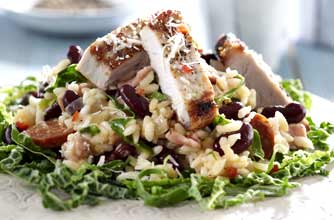 High protein: Beans
Protein per 100g:
There is about 17g of protein in a 100g serving of beans which is just over a third of your average RDI.


High protein recipes to try:

Our Brazilian bean risotto is perfect for feeding the whole family at the weekend. The protein in this recipe is taken from the sausage, bacon, cheese and kidney beans - they'll be no room for dessert after this dish!
Have you ever made a bean burger before? If you're looking for something with lots of flavour and protein, a bean burger is the perfect choice. Served with or without a bun and with some fresh salad leaves, our bean burger blends cannellini, butter and kidney beans together.
Our hearty sausage and bean casserole only takes 40 mins to rustle up and it's a great way to get some veggies into your kids diet. The sausage and the bean combo add up to just under a half of your RDI of protein.


Healthy cooking tip:
Beans don't have to just be cooked in a jar of sauce you know. Ditch the sauce for something lighter instead, sprinkle with herbs, drizzle in balsamic vinegar or boil with a stock cube.