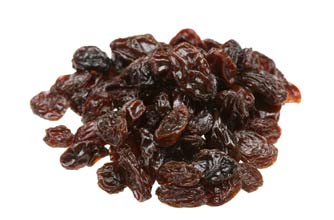 Raisins
Better than white sugar because:
First off they're a fruit, and secondly they're packed full of energy boosting sugars and vitamins.

What recipes to use it in:

Sprinkle some raisins on your bowl of cereal or porridge instead of opting for a spoonful of sugar.
A handful of raisins would make a much better snack than a shop-bought cereal bar, which are often packed full of sugar.
Substitute some of the sugar for raisins in your favourite cookie recipe. Our oatmeal raisin cookies do exactly that, plus they use oats and cinnamon for added sweetness.