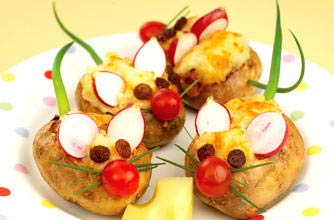 Baked potato mice
Why it's good for them:
The humble spud actually has quite a lot of health benefits that you might not know about. Rich in B6, these earthy vegetables help to maintain a balanced mood, something any mother of a toddler will appreciate. Potatoes, when cooked with their skins on, are also high in potassium, keeping metabolism high and healthy.
Why they'll love it: Children can't get enough of cheeky looking characters and these dinner offerings fit the bill perfectly.