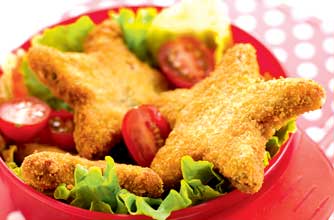 Veggie bite burgers
Why it's good for them:
These lovely little burgers hide five different types of veggies - from leeks to mushrooms and best of all - the kids won't suspect a thing! Full of dietary fibre, these crunchy morsels will keep your little one's gut happy and maintain a healthy digestive process.
Why they'll love it: Because of their fun shape kids can't get enough of these burgers. They'll also enjoy making up their burgers with extra salad veggies to make colourful bites.