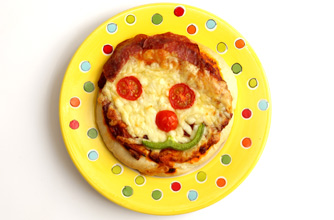 Funny face pizza
Why it's good for them:
We're not saying pizza is the perfect dinner to eat all the time, but when made from scratch, it's lots better for your family than a packet version. Making your own pizza dough is easier than you might think and cuts out any additives or preservatives from your average pizza. Plus you can add lots of veggies on top too including sweet red pepper and soft button mushrooms.
Why they'll love it: It's pizza! And there's a silly face on it, do we need to say more?