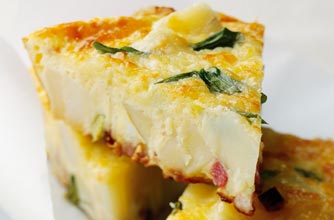 14. Frittata
Classic recipe: Frittata
Why so popular? This delicious dinner is a great way to use up all those bits and bobs in the fridge. With most people usually having eggs in, it makes the perfect go-to recipe towards the end of the week. Even with just potato and onion this Spanish dish is absolutely delicious. Using plenty of eggs you can make this very inexpensively too - good news!


How to give it a twist:
The great thing about frittata is that the egg base goes with any flavours. Try smoked salmon, chorizo sausage or roasted sweet potato. Serve it cold in packed lunches for a change to sandwiches.
See more ideas for frittata fillings