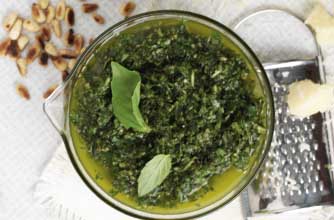 Classic: Homemade pesto
Grab your pestle and mortar or your food processor and get blitzing! Pesto is pretty easy to whip up at home combining pine nuts, basil leaves and garlic together to make a deliciously flavour-packed sauce. Once you've tasted homemade pesto, the jarred version just won't compare.

How to serve:
Stir through your chosen cooked pasta, be it spaghetti, fusilli or penne. You can add some veggies to the mix too like mushrooms, asparagus or spinach. Crumbled up goat's cheese or mozzarella on top wouldn't go amiss either!


How to store:
Store in the fridge for up to three days - make sure you give it a good stir before serving as the oil tends to sit on top and separate from the rest of the sauce. Pesto is best frozen in ice cube trays (so you can defrost in serving sizes) or an airtight bag for up to one month.


Get the recipe: Homemade pesto