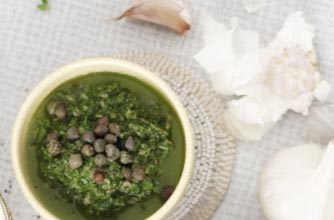 Classic: Salsa verde
Salsa verde is made with crushed garlic, capers and anchovy fillets so has a strong, tangy flavour. You just need to blend the ingredients together to make this simple sauce.


How to serve:
Salsa verde is best served fresh so once you've made your sauce, drizzle or scoop a few spoonfuls onto your chosen pasta dish and stir. Salsa verde goes really well as a sauce for salmon or mozzarella pasta.

How to store:
Store in an airtight container for up to two days in the fridge, it's not suitable for freezing.


Get the recipe: Salsa verde