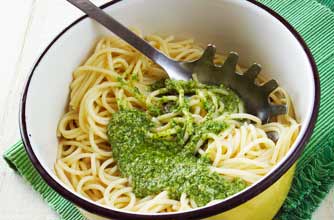 Give it a twist: Rocket pesto
Want to take your pesto making skills to the next level? Swap the basil leaves for peppery rocket instead. The rocket gives your pesto an intense flavour which is not to be missed. Just like classic pesto, all you have to do is whizz all of the ingredients in a food blender and you're ready to go!

How to serve:
Stir your homemade pesto through spaghetti, penne or fusili and serve with fish, red meat or a simple herb-infused breast of chicken. The rocket will make it the perfect accompaniment to pasta salads too.


How to store:
Store in the fridge for up to three days. Pesto is best frozen in ice cube trays or airtight bag for up to one month.


Get the recipe: Rocket pesto