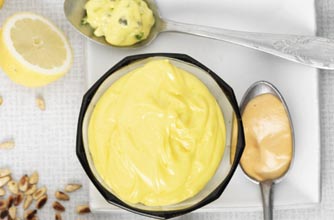 Give it a twist: Mayonnaise
If you're a fan of tuna pasta with mayonnaise you should really give this homemade version a try. It's so simple to make combining egg yolks, mustard powder and lemon juice together to make a thick and creamy sauce
.
If you make mayonnaise yourself you can add flavours such as garlic and herbs to give your sauce more depth than the shop-bought version.


How to serve:
Mayonnaise is best served fresh so just add a few spoonfuls to your pasta and stir. You can add tuna, sweetcorn, chicken, mushrooms and other delicious ingredients to the mix. You can warm mayonnaise up or serve cold. This sauce is great if you're having a pasta salad.


How to store:
It's not suitable for freezing but can be stored in an airtight container in the fridge for up to two days.


Get the recipe: Mayonnaise