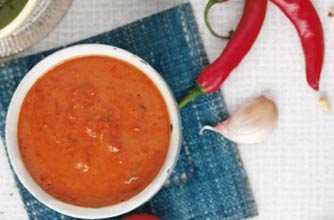 Give it a twist: Piri Piri sauce
Piri Piri sauce is not just for chicken you know, you can spice up your favourite pasta dish with it too. Prepared and cooked in just under an hour, the sauce is a good one to make in bulk and freeze for different dishes.

How to serve:
This sauce can be served hot or cold but for the best flavour we'd recommend serving hot. Add a spoonful at a time to your pasta, stir and taste. Remember that this sauce is going to be spicy so control the heat by adding a little at a time. Serve with meat like chicken or beef and top with roasted veg like red onion, courgette and tomatoes.


How to store:
Store in a jar or airtight container in the fridge for up to one month. Do not freeze.


Get the recipe: Piri Piri sauce