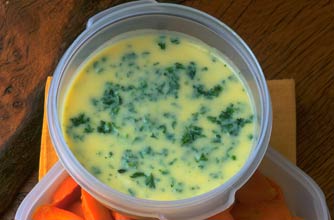 Parsley sauce
A classic accompaniment to fish, parsley sauce is a light creamy sauce with a wonderful herby finish. You can buy it ready made but if you make it yourself it will be so much more flavoursome - you can even team it with lemon or garlic for a stronger taste.
Serve with: Parsley sauce is perfect with grilled white fish or even fish cakes.

How to store: Parsley sauce is best served fresh but can be kept in the fridge for up to 2 days, just make sure you give it a good stir before reheating and serving. Parsley sauce is not suitable for freezing.

Get the recipe: Parsley sauce