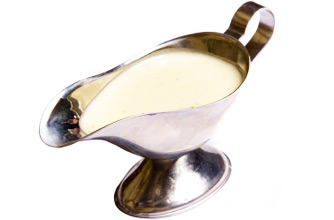 White sauce
White sauce makes the basis for most sauces and you can add lots of different flavours and ingredients to it but the classic is light and creamy with a hint of parsley and peppercorn. If you've never made white sauce before, our step-by-step video recipe is sure to make the process a little easier for you.
Serve with: A variety of fish like haddock, salmon or cod can be cooked in this sauce. There's no limitations to this sauce either - cook fish in it, drizzle over your fresh fillet or serve as a side for dipping, the choice is yours!
How to store: Pop into an airtight container or bag and store in the fridge for up to two days. You can freeze this sauce too.

Get the recipe: White sauce