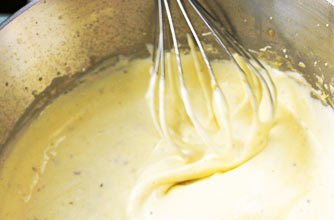 Hollandaise sauce
It doesn't take much to make a classic Hollandaise sauce: a couple of egg yolks, a handful of white peppercorn and a dash of lemon juice. It takes a bit of effort to master but once you do, you'll be opting for the homemade stuff every time.
Serve with: Hollandaise sauce is classically served with salmon and poached egg but you can serve it with other combinations too like including haddock, plaice and even seafoods like lobster.

How to store: This sauce is best served fresh so keep this in mind when making. You can freeze Hollandaise if you want to prepare it in advance. Just pop into an airtight bag or Tupperware and freeze for up to two months.

Get the recipe: Michel Roux's Hollandaise sauce