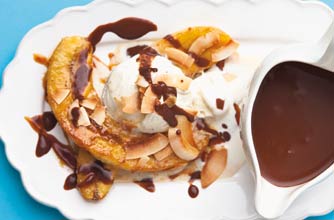 Chocolate coconut sauce
Chocolate and coconut really do make a delicious combination. This mouth-watering sauce is ready in about five minutes and will transform your dessert into a restaurant-style dish.
Serve with
: This chocolate sauce would be ideal spooned on top of pancakes, ice cream or would be perfect drizzled on top of a chocolate cake or brownies mmm...
How to store
: Store this sauce in the fridge for up to two days. Warm up in the microwave and stir to get the texture smooth and lump-free when reusing.
Get the recipe:
Chocolate coconut sauce