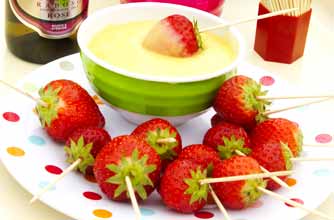 White chocolate dipping sauce
It really doesn't take much to make this sauce. All you have to do is combine whipping cream, white chocolate and vanilla extract together - it's that simple.
Serve with
: Other than dipping strawberries, marshmallows or other sweet treats into this sauce, you can use it for decorating cupcakes or drizzling over a big bowl of ice cream.
How to store
: This sauce is best made fresh and served warm straight after making so we'd recommend you only make it from scratch and eat in one go.
Get the recipe:
White chocolate dipping sauce