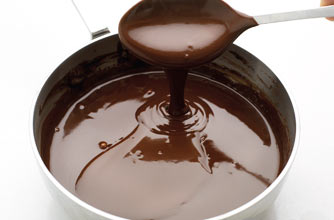 Chocolate sauce
Nothing beats a warm drizzling of chocolate sauce on top of your ice cream or pud. Making your own means a richer, creamier sauce and you can choose what type of chocolate you use in it too - you could even flavour it with mint or orange for a lovely twist.
Serve with
: You can serve this delightful sauce with ice cream, profiteroles, cakes or melt-in-the-middle puddings - the choice is yours! You could even add a dash of your favourite liqueur to give it an even naughtier twist.
How to store
: This sauce is best made fresh and served warm straight after making so we'd recommend you only make it from scratch and eat in one go.
Get the recipe:
Michel Roux's chocolate sauce