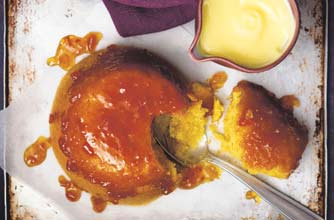 Marmalade sauce
If you're bored of just serving your pud with a helping of custard or a scoop of ice cream, liven things up a bit by making this tangy marmalade sauce instead. The citrus flavour of the Seville oranges will really transform your dessert.
Serve with
: You can pop this sticky, tangy marmalade sauce on top of a vanilla sponge cake or pudding, serve it with some chocolate ice cream for a chocolate orange combo or smother onto some French toast with segments of fresh oranges.
How to store
: Once the sauce has cooled, pour into an airtight container and store in the fridge for up to two days. Reheat before serving. We'd wouldn't recommend freezing this sauce.
Get the recipe:
Marmalade sauce