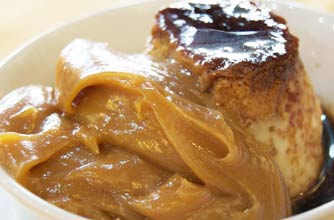 Dulce de leche
It's super easy to make this thick, toffee-like sauce by the Hairy Bikers. All you need is a can of sweetened condensed milk - and that's it!
Serve with
: Pour this thick, luxurious sauce onto fresh fruit or use as the toffee in banoffee pie, Millionaire's shortbread or you could even use it as a cake filling. Pour onto scoops of vanilla or chocolate ice cream or serve with a slice of cheesecake.
How to store
: This sauce is best served freshly prepared and used up in one go.
Get the recipe:
Hairy Bikers' dulce de leche