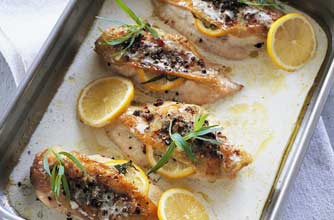 Lemon and tarragon sauce
This refreshingly tangy lemon and tarragon sauce is a great way of getting intense flavour into your chicken breasts. Fresh lemons and sprigs of tarragon are the ideal way to make this sauce but you can use the bottled and dried versions if you're cutting back. The more lemon you add, the tangier the overall dish will taste.
Make in bulk
: This sauce is best made fresh but if you're making it for a lot of people, double up the quantities and start preparing on the morning that you want to serve it for dinner. You could use this sauce as a marinade for your chicken too. Just pour over the uncooked chicken pieces and soak in an airtight container in the fridge.
Get the recipe:
Chicken breast with lemon and tarragon sauce