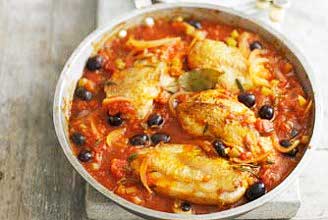 Italian-style chicken with olives
The olives in this sauce give the wine, garlic and sun-dried tomato-based sauce an extra salty burst of flavour. This recipe cooks the chicken in the sauce to make sure the bird is extra moist and succulent - falling off the bone.
Make in bulk
: We think this sauce, and dish as a whole, is best made from fresh but if you're making it in bulk and doubling up your ingredients, store portioned into airtight containers or freezer bags and freeze for up to one month. Make sure you use fresh chicken instead of ready frozen.
Get the recipe:
Italian-style chicken with olives

Where to next?