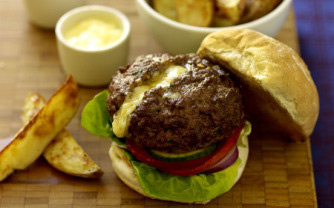 Homemade takeaway burger
There are a few obvious restaurants that are very tempting when it comes to a fast food burger but it's actually cheaper to make burgers yourself.

Classic burgers
Ditch the fast food for your own version. Burgers are really easy to make and can be made in advance too and then just popped in the oven or on a griddle pan to cook.
More homemade burger recipes
Classic sides
Don't forget the sides! Chips, salad and homemade burger buns - yes please!
Alternatives