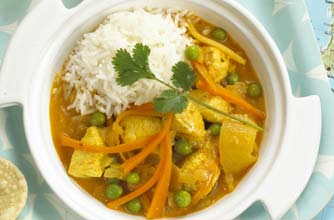 Dinner: Chicken curry
This child-friendly recipe has been designed by infant expert Annabel Karmel so needs very little tweaking to make it perfect for your baby's digestive system. If youíre making this for your baby donít be put off by its Ďchildrenís foodí status, this curry is packed with flavour and sweetness from the fruit which makes it a delicious combo for mums too!


How to prepare for your baby:
Make sure to use low-salt stock and try not to add any extra seasoning as you donít want your baby to get used to the taste of salt in their food, it can sometimes lead to little ones refusing to eat anything that doesnít have it in from then on. Make the curry as you would for you and then set a portion aside for baby, leave to cool and then blitz until smooth. At this point you can add more spice to your portion of curry, if you fancy giving it a little kick.

Why itís good for them:
The protein from the chicken will help aid your babyís general development while the vitamins and minerals from apples, carrots, peas and tomatoes give them a tasty treat thatís packed with nutrients. Some experts suggest that introducing a variety of spices and flavours will help to make sure you donít end up with a fussy eater later on.

Get the recipe for you:
Annabel Karmelís fruity chicken curry