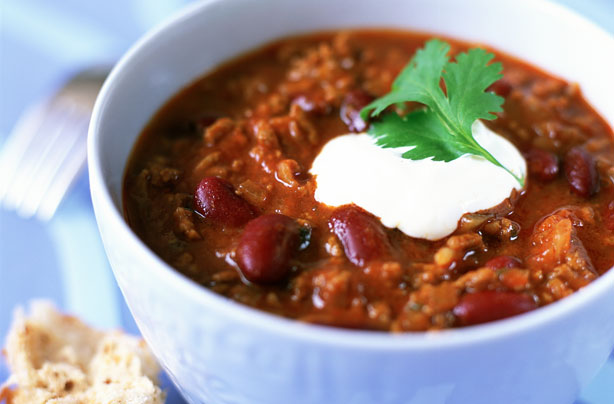 Dinner: Chilli con carne
Introducing new flavours like herbs and spices to your baby from around eight months will help expand their palette, hopefully making them less of a fussy toddler! Chilli is packed with tasty flavours and is easy to alter for a little ones' taste buds.


How to prepare for your baby:
Simply leave out the wine, chilli, Worcestershire sauce and make sure your stock is a low-salt version. Make sure to use lean beef mince to make it easy to digest. You can make it like this for the whole family and simply add more seasoning, the Worcestershire sauce and chilli after you've removed your little one's portion. Puree or blitz to make it easier to swallow and serve.

Why it's good for them:
Beans are a great, lean source of protein to introduce to your baby from somewhere between eight to ten months roughly. Their digestive systems will have become stronger at this point and it'll make it easier for them to break the beans down. The fibre found in beans will also aid their digestive systems once they're ready to start eating them.
Get the recipe for you: Chilli con carne