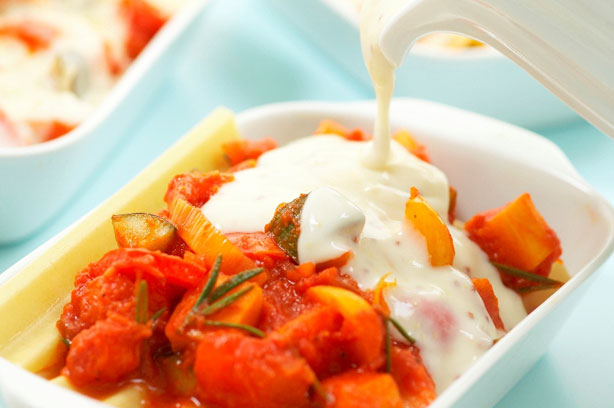 Dinner: Vegetable lasagne
It's good to have a vegetarian meal a few times a week to make sure that your baby's diet is varied with nutrients and this veggie lasagne is packed full of goodness and perfect for making for both you and your baby too.
How to prepare for your baby:
Mustard can sometimes cause allergies so make sure your baby isn't allergic before adding or leave out completely if you're not sure. Other than that small sacrifice, this nutritious dish can be made the normal way, again just making sure you are using a low-salt stock or even water instead of powders or gels which are loaded with it. Puree or blitz once cooked, leave to cool a little and you're ready to serve.

Why it's good for them:
With four different vegetables and an added bonus with the homemade tomato sauce, this veggie lasagne is a complex mix of all the best vitamins and minerals. The beta-carotene in the carrots and butternut squash will provide your baby with plenty of antioxidants and is broken down into vitamin A too.
Get the recipe for you: Vegetable lasagne