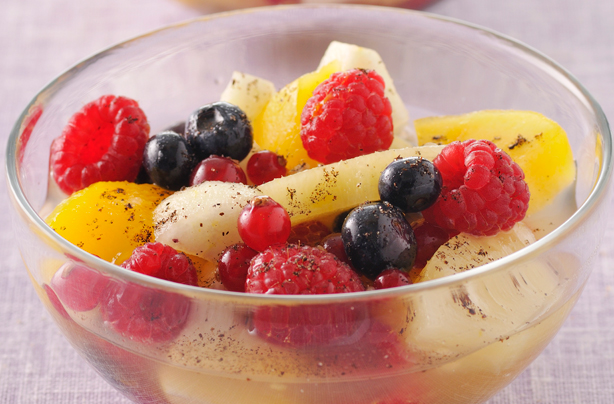 Dessert: Fruit salad
Give your baby a fresh, fruity pudding which will give them a sweet treat without all that typical sugar which comes in desserts. It really doesn't take much to make this dessert, and you don't have to change much either to adjust the recipe for both you and your baby.
How to prepare for your baby:
Sweeten this tasty fruit salad with a touch of honey instead of sugar or leave out the sweetener altogether if preferred. We wouldn't change anything else in this tasty recipe, the light spices will give the fruit salad warmth and will introduce a new flavour to your little one too. Again, decide whether you'd like to mash, blitz or puree this dish and serve up.
Why it's good for them:
Including a range of colours is a good indication of a variety of vitamin and minerals in fresh fruit and veggies. This simple dessert for instance contains vitamin C from pears, vitamin A from peaches and antioxidants from blueberries.
Get the recipe for you: Fruit salad