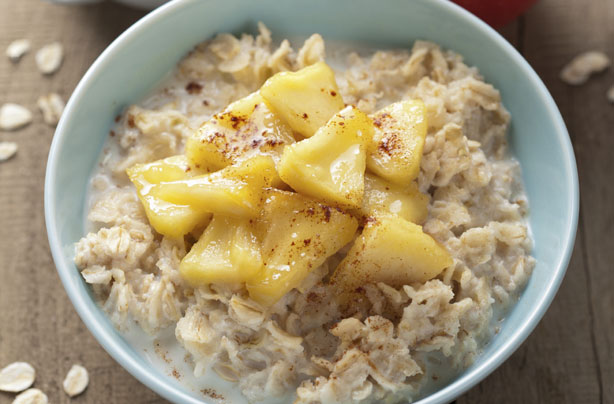 Breakfast: Porridge
There's no reason why you can't all have the same breakfast as a family, once your baby starts to eat solids. Making your porridge from scratch for both you and the baby will mean cutting out the sugar and salt often found in packet mixes and you can flavour it anyway you like.


How to prepare for your baby:
Blitz oats in your own food processor to make a fine powder, ready to make into your porridge. With a recipe like our apple and cinnamon porridge, you can simply puree the apple, honey and cinnamon mixture till smooth and mix through the porridge for added flavour for both you and the little one. If your baby has just started on solids it's best to use oatmeal so the texture is as smooth as possible.


Why it's good for them:
A good source of fibre, oats will aid your baby's digestion. Oats are also much easier to digest than many other grains for babies' little tummies and are slowly absorbed into the bloodstream, keeping blood sugar spikes at bay and helping keep hearts healthy too.
Get the recipe for you: Apple and cinnamon porridge