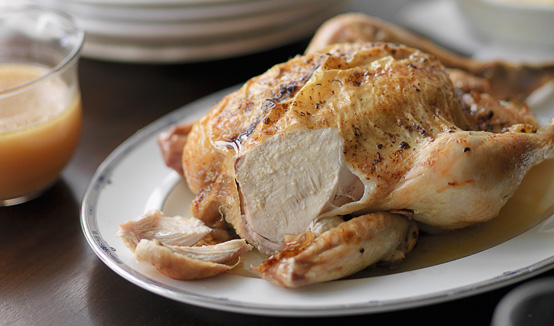 Dinner: Roast chicken
Fancy a Sunday lunch but don't know what to feed your little one? They'll love the soft roast chicken and pureed vegetables like peas or carrots - they make a delicious healthy combination that only need to be blitzed down in a food processor to serve to your baby.
How to prepare for your baby:
There's very little you need to do with a lovely roast chicken to make it suitable for your baby. Simply roast in its natural juices for you and the family and then cut off some of the meat to puree for baby once cooked. You can add any veggies you're having too, like carrots, peas or potatoes to give them a little healthy boost.
Why it's good for them:
Because it is one of the most easily digested meats, chicken is a great way to get your baby beyond simple fruit and veg purees. High in protein and iron, it will keep their little tummies full and their minds active.
Get the recipe for you:
Roast chicken