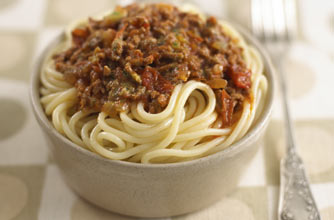 Dinner: Spaghetti Bolognese
This family classic can be a tasty progression from pureed fruits and veggies once your baby starts welcoming different flavours and textures. Before serving the Bolognese on the spaghetti, portion out some of the sauce for your baby and leave to one side to cool.


How to prepare for your baby:
Try and get the leanest beef possible to make this dish as easily digestible as possible. Make the sauce without the salty Worcestershire sauce or ketchup to keep it gentle on your babyís tummy. Puree the sauce once itís cooked, or blitz roughly if your baby is a little older.
Pasta is typically introduced to a baby from eight months. It's recommended that you only serve a very small portion in case of wheat allergies. You can blitz the spaghetti in a blender with the sauce or swap the spaghetti for a smaller, softer type of pasta like orzo - the choice is yours.
Why itís good for them:
This recipe will give your baby a good source of iron which is sometimes hard to get into young children. Along with vitamin B and protein, beef is a filling and nutritional ingredient to add to your babyís diet.

Get the full recipe: Spaghetti Bolognese