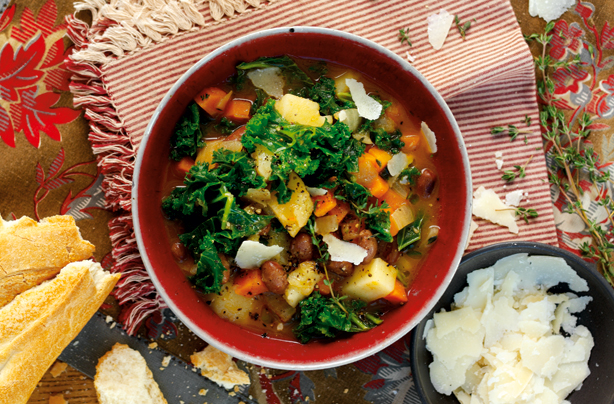 Chunky soup recipes
Chunky soups make a filling and warming meal that you won't even need a blender to make. These satisfying
soup recipes
are a meal in themselves, including a Vietnamese pho soup packed with noodles, an Italian minestrone soup and a chunky root vegetable soup that you can have with or without crusty bread for dipping.
Our pick of chunky soup recipes are so easy to make and use seasonal ingredients, packed with vegetables as well as beans, pasta or noodles to give that lovely chunky texture. There's no faffing with a blender or food processor and the results are that much more satisfying. Make a chunky soup for dinner and have the leftovers for lunch the next day, when you'll have a lovely lunch to look forward to.
This healthy borlotti bean and kale soup is really simple to make - and kale is now widely availble in supermarkets.
Get the recipe: Borlotti bean and kale soupClick through to see all of our filling chunky soup recipes...