Soup recipes
This classic soup recipe has been given a modern twist with sweet peas and a crunchy garnish of saffron leek rings. This…

This tasty Slimming World tomato soup recipe is great for anyone who's watching their weight, and it's quick to make too.

This delicious creamy clam chowder, made by MasterChef judge John Torode, is the perfect treat for dinner. Made with…

This healthy, light soup of Japanese miso with chicken and mushroom makes a great low calorie snack.
New soup recipes
A deliciously warm pick-me-up for…

This borlotti bean and kale soup is…

A delicious high energy soup that…
Soup recipes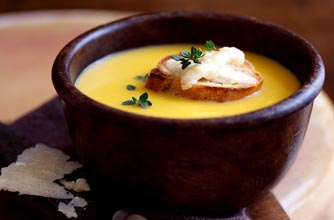 Soup is such an easy dish to make with plenty of choices on offer. From your classic leek and potato soup to fancy pumpkin soup, we've got lots of delicious soup recipes to try. Browse our handy guide to learn to how make soup from scratch and store...
How to make soup
Soup is pretty simple to make. All you have to do is decide what you want to add to it - be it vegetables or meat. Cut your chosen ingredients into similar sized chunks. In a large pan on the hob begin to boil your vegetables and meat in twice the amount of water. Add a stock cube to bulk-up the soup. You can add cream to thicken your soup too.
Once it reaches the boil, turn down the heat and simmer. When your ingredients are soft and cooked, leave your soup to cool off of the hob so it's not piping hot and pour into a food processor and blitz. Once you've blitzed your soup pour into a bowl and serve - ta-dah you've got soup!
Soup is a great way of using up leftovers. If you've got leftover meat and veg from your Sunday roast you don't have to bin them but can whip up into a tasty soup for lunch the next day instead. It doesn't take much to make soup - some stock, veggies or meat and that's about it.
Don't worry if you haven't got a food processor to mix all your ingredients together - you can make a chunky soup and cut all the ingredients by hand or use a masher instead.
How to store soup
If you've made a large batch of soup it's best to portion it before you store it - that's if you're not planning on eating it all at once! Store in Tupperware boxes or airtight liquid bags and label.
Soup can be stored in the freezer for up to 3 months. Leave in the fridge overnight to defrost and make sure your soup is piping hot before serving.
Now that we've covered the basics, it's time for you to choose a recipe. Have a browse through our delicious soup recipes and see if any recipes float your boat.
Happy cooking!
Latest Soup collections
Liked our soup recipes? You'll love these...