Steak recipes
Minute steak with chimichurri salsa makea dlicious but speedy treat for two. The chimichurri sauce is made with chilli,…

A really easy-to-follow recipe for a delicious and rich steak and ale pie from The Hairy Bikers. You can't beat good,…

Learn how to make steak with our step by step video for how to make sirloin steak to your taste with just a little oil,…

You can enjoy these steak and Guinness pies with sprout mash by Slimming World guilt-free, thanks to the light puff…
New steak recipes
Want a salad that's healthy and…

This steak recipe is an ideal party…

Teriyaki is a Japanese marinade made…
Your favourite steak recipes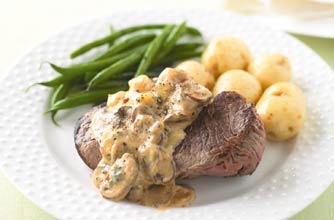 There's nothing quite like a lovely steak dinner at the end of a hard day. Steak is also a great choice for Valentine's Day meals, romantic recipes and dinner parties. We have lots of steak marinade, steak sauces and steak dinner recipes for all different cuts of steak including sirloin, rump, fillet and rib eye. Here are some of your all time favourite steak recipes:
how to cook the perfect steak
and make
peppercorn sauce
Latest Steak collections
Liked our steak recipes? You'll love these...