You are here:

Stuffed pepper
Stuffed pepper recipes
These bright peppers with their lively filling will really cheer you up! With just 3g of fat and 302 cals per serving,…

These brilliant red peppers are great to cook either in an oven or in the summer, over medium coals on a barbecue (with…

This stuffed peppers recipe has a Greek feel to it with the feta cheese and olives. It's a really easy and tasty dinner…

There always seems to be an odd pepper lurking in the back of the fridge salad drawer. Sometime a recipe calls for a…

Serves: 4 as a main, 8 as a starter
New recipes
This recipe for baked stuffed red…

You only need four ingredients to…

Stuffed peppers make delicious and…
Stuffed pepper recipes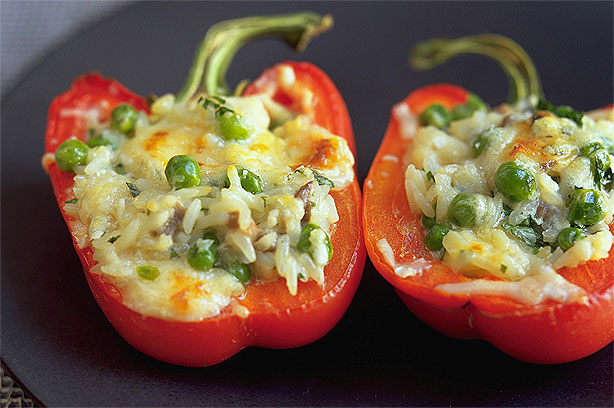 Stuffed peppers make a cheap and easy family meal that can be ready in minutes. Fill them with your choice of mince, cheese or other vegetables - it's completely up to you!
We've got plenty of recipes for stuffed peppers to choose from including some of our favourites like classic baked stuffed peppers, tasty bolognese stuffed peppers with cheese and peppers with spicy turkey stuffing. Whatever you fancy, we've got a simple recipe just for you. Stuffed peppers have never been easier.
How to cook stuffed peppers
The best way to cook stuffed peppers is in the oven to make sure your stuffing is nice and cooked all the way through. Cooking your peppers this way keeps them juicy and soft which is the perfect texture for a stuffed pepper. If you're in a rush you can pre-cook all your stuffing and just pop in the oven for a shorter baking time. Simple!
Stuffed peppers make a great addition to a BBQ, party or your mid-week meals. They're quick and healthy and are great for getting the kids involved in the kitchen. Get stuffing today!

Latest Stuffed pepper collections
Liked our recipes? You'll love these...