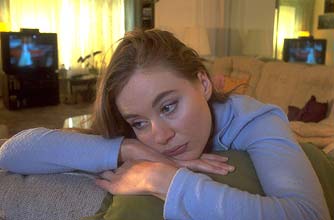 Here are some of the emotions you may be feeling, once you've found out
Numb
Shock affects everyone in different ways but it usually makes you feel completely numb, as if you're walking around in a daze. Outwardly, you may seem absolutely fine and your friends may think you're coping very well, but you're not really. Once the numbness wears off you may experience what experts call 'denial.'
Denial
This simply means you can't believe what's happened. It's another very common reaction to upsetting news. You tell yourself it can't be true, that your partner must be lying or playing a sick joke. Denial is your mind's way of protecting you from the pain in these early days. It makes you carry on 'as normal' as if the affair never happened.
There's no time limit for the denial stage - it can take hours, days or even weeks - but once it wears off you will probably feel anger.
Angry
This is a very healthy reaction. Of course you're angry! But be careful how you deal with the rage building up inside. By all means let him know how you feel, but don't do anything you might regret later, such as fighting in front of the kids or destroying his possessions.
TIP:
If you feel the urge to punch him, punch a pillow instead.
Guilty
Some women don't feel angry at all. Instead, they quickly start blaming themselves, looking for things they said or did that could have 'made him' cheat. 'Wondering "what if" or "if only" is very natural too,' says Paula Hall. "But try not to dwell on it and keep these thoughts in perspective." Remember, he's the one who committed the act - not you.
Terrified
Panic soon sets in and you start worrying about the future. How will you cope practically and emotionally if your marriage is over? How will you manage for money? What will you tell the kids? These issues will usually become clearer with time and, as tough as it sounds, try not to worry about these too much.
Continued below...
Sexy
'This reaction takes many women by surprise but is also surprisingly common,' says Paula Hall. 'Some women find their sex drive goes through the roof and their desire for sex with their partner, or with someone else, is suddenly very strong.' Experts believe this desire is simply a basic, human instinct designed to help you keep your mate or to find another one. Don't worry about it. You aren't going mad, but do be careful and always practise safe sex.