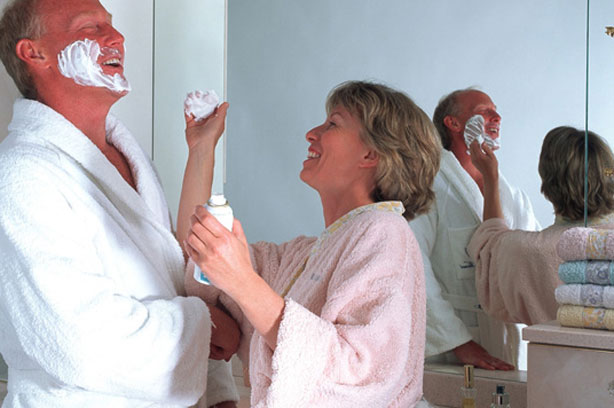 16. Laugh
Humour is good for your health anyway, and sharing jokes with each other makes for a better bond. Rent a favourite comedy DVD, look at old photos of yourselves... anything that will tickle your funny bones.
-
The health benefits of laughter
17. Make love more often
The more time you spend together in the bedroom, the better it will be for your relationship.
-
50 top tips to boost your sex life
18. Spend some time apart
We know this sounds a bit weird, but allowing each other time and space 'to breathe' is just as important and spending quality time together. This can be some sort of hobby or interest that your partner doesn't share.
19. Forget the past
This means silly arguments or things where one of you may have done or said something they now regret. Move forward and concentrate on your future together. By harbouring resentment, you will never be able to move on with your relationship.
20. Work as a team
Don't blame each other for things that may have gone wrong. Admit to mucking up and try to use it as a positive thing and move on. No-one is at fault for everything, and no-one can do everything perfectly, either. Once you realise this, you will hopefully begin to work together as a team.
- Next:
How a little light breakfast is a winning formula
Continued below...
More help and advice
-
Send your partner a hug!
-
50 top tips to boost your sex life
-
Your relationship problems answered