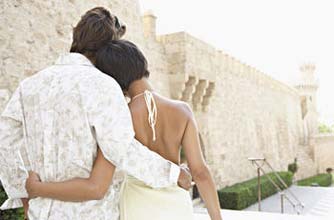 1. Spend time together
Remember to spend quality time as a couple outside your jobs as being parents, by going out for a romantic dinner or the odd weekend away alone where you don't talk baby talk.
Keep baby clothes out of the bedroom to remind yourselves that you have an adult relationship that needs its own space and time to grow and stay healthy.
2. Share the load
Look at how you juggle your domestic life and try to find a practical system where workloads are fairly distributed and harmonised so resentment is nipped in the bud.
It's important that one of you doesn't feel put upon all the time and isn't always clearing up, doing the washing or cooking all the meals.
- Next: How taking a bath can boost your sex life
More help and advice
-
Top tips to boost your sex life
-
Dr Petra answers your sex problems
-
Bored with the missionary? Try our top 10 sex positions
Continued below...
Rachel Foux is the author of The New Mum's Guide to Sex (Fusion Press, 2007) and runs workshops for preparing, expecting and new mums and dads. Visit www.householdcompanion.co.uk for more information.