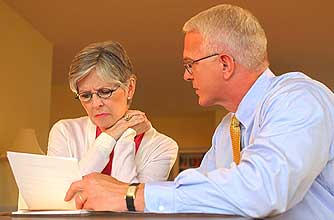 1. Don't just be guided by price
You need to find someone who does your sort of case, day in, day out. If your case is too tricky, they may not have the necessary skills. However, if it's very straightforward, they may not be interested if they're used to dealing with more difficult cases.
2. Don't be scared of talking about costs
Solicitors have to tell you how they charge and give you the best estimate of what they think the case might cost.
The quickest route to problems between a solicitor and their client is confusion about costs. Find out how much money they're likely to want when they'll want it. If necessary, talk about how you're going to pay it. These days it is difficult to get public funding but find out. Discuss the possibility of a loan.
3. Understand what's involved
You need to know right from the start what's involved with divorce proceedings - how long the whole case is likely to take, what will you need to do to prepare, what you're trying to get out of it and, most of all, find out from the solicitor what they think they can achieve for you.
You can also make the most of the first meeting with your solicitor by taking with you full details about your family assets
house value
mortgage details
shares
savings
pensions
life policies
debts
.
Continued below...
You can also prepare a sheet setting out details of the date of the marriage, names and dates of birth of you and your husband as well as any children. This will save time and money at the first meeting.
During your case, respond to any request for information quickly. It may be that costs can be reduced by you preparing some of the information. Make sure that you understand what your solicitor is trying to achieve for you. While the solicitor is running the case, it's your life and don't think that any question you ask is a stupid question.
- Next: There are other options other than the courts