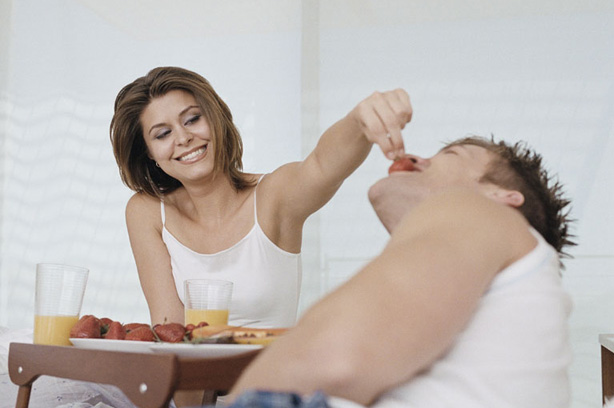 After you've had kids, it's not always easy to get your love life back on track.

You may still be recovering from the birth, be mentally and physically shattered from the complete change in your life, or up half the night with screaming kids.
Here at goodtoknow, we've already come up with some
tips to keep your relationship blossoming
and also asked an expert on how to
keep your sex life healthy after a baby
, but we know that the people who know best are you, the goodtoknow users.
Some of you have been
chatting about this topic
and come up with some suggestions below...
Your comments
'We found it tough to get someone to look after the twins when they were younger. It was silly really because I started to think... how did my parents do it? You asked one of the neighbours kids, didn't you? People don't really do that anymore because everyone's so hung up on not being able to trust anyone. Bring back the trust I say and ask one of the neighbours' kids.'
Funkymum
'We have three kiddies... youngest is 11 months old... it is good to take them out with you, and I have just gotten used to having no-one to mind them... As far as keeping the romance going, what's wrong with booze and watching a dvd with the hubby when kids are in bed. I know i'm a cheap date!'
Hannah
'I find the best way to keeping the romance going is to feel good in yourself. Being a mum is hard work and tiring, but making 5 minutes to put some slap on, doin your hair and wearing something that makes you feel good about yourself, including the underwear(!) is a start.
When your husband or partner notice the effort usually they cant keep their hands off you! sneak into the kitchen 'to make a cuppa' and have an old-school proper snog with them - even that small thing will spark up summat.
When you go to bed give each other a massage thats my favourite - just make sure you do your partners first then you can relax.
For foreplay picture messages are great when you're apart - just make sure no one else sees you taking them and they're not standing up in a meeting when they receive them!'
Claire- Do you agree? Have you got any tips? Join in the debate
Continued below...
More help and advice
-
Tips to put the spark into your relationship
-
Keeping your sex life after a baby
-
Relationship problems answered