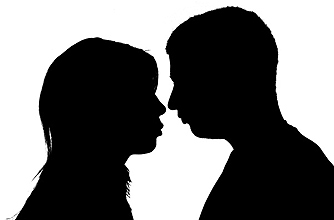 My secret is that my boyfriend is nearly 20 years younger than me. My family thinks I've stopped seeing him, but I haven't

Ben joined as a temp in the company where I work and I was his supervisor. We hit it off immediately and then on a boozy night out one thing led to another and we ended up in bed together.

I regretted it immediately because of his age but it was one of the best nights I'd had in years!

We soon started sleeping with each other quite regularly and it became quite serious. We had genuine feelings for each other so I felt it was time I introduced him to my family.

I told my mum before I introduced him to my 16-year-old son and she was horrified.

She told me that I had to end it and that I was disgusting - calling me a paedophile and all sorts which is completely ridiculous because Ben's hardly a child! She said there was no way I should tell my son, but I went against what she said because I felt that he had to know.

I could tell my son wasn't happy when I told him and was very quiet when he met Ben for the first time. He kept quiet for a few weeks until one night he really lost it and started screaming at me, saying he hated me, I was a whore and other horrible things. I was devastated and so hurt by everyone's reaction.

So I decided to tell everyone I've ended it with Ben. I love my son so much and would never want to hurt him but I am also completely in love with Ben. He makes me feel like I've never felt before and I truly believe that he loves me too.

I've still been seeing him secretly since the row with my son, staying late at work just to be together, but I just don't know what to do. The thought of not seeing Ben anymore makes me feel so depressed but I can't upset my family. Please help.
Jackie

What do you think about Jackie's confession? What do you think she should do? Have your say in the Comments section below...

Have you got a secret of your own? Send it in to us.



Continued below...




Where to next?
Read more of your secrets
Tips to boost your sex life
Find out what stage your relationship is at