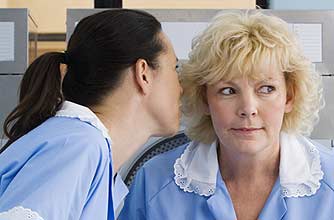 You've really enjoyed reading our Secrets section and we've had a lot of comments from you giving your advice and support for the women who've confessed.
We've put together a selection of the comments posted for you to enjoy. What do you think? Have you got any advice for the women who've shared their secret? Maybe you've got a secret of your own that you'd like to share.
We always love to hear what you think, so please don't be shy...
Secret: 'My husband likes to dress up in women's clothing'
Your comments
'It is strange at first, but you just get used to it in time. It is not a reason to affect your relationship. Crossdressers tend to make amazingly supportive and wonderful fathers.'
Sarah Burns
-
Read this secret and more comments
-
Share your secret
Secret: 'I've slept with over a hundred people'
Your commentsYour comments
'I don't believe anyone or anything can stop you apart from yourself. You have to decide what it is you want out of life.'
LJPoo
'Oh get over yourself. You're 24 and have plenty of time for a relationship. Have fun while you can!'
Sapphire
-
Read this secret and more comments
-
Share your secret
Secret: 'I don't know who the father of my child is'
Your comments
'She must find out who the father is. It's unfair to expect a man to raise a child that isn't his.'
Lou
'Penny should decide if finding out is really going to change anything. It doesn't really matter who the biological father is.'
Lauren
Continued below...
-
Read this secret and more comments
-
Share your secret