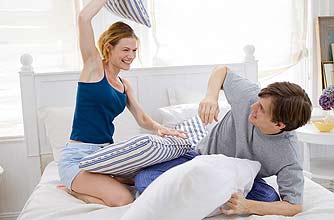 Foreplay tips
8. Get energetic in the bedroom!
Exercise
really gets the blood pumping and the feelgood endorphins that are released are similar to how you feel when you get aroused.
We're not suggesting you go for a run or spend an hour at the gym to get each other in the mood, but there's nothing wrong with getting more energetic in the bedroom!
Try starting with a pillow fight! Don't hit too hard, but do it enough to get out of breath and flirt with competitiveness! By the time you collapse into a heap on the duvet, you won't be able to keep your hands off each other.
Continued below...
If pillow fighting isn't for you, you could always try a little gentle play -fighting - arm wrestling, wrestling, or just a bit of playful rolling around on the bed! Just make sure you don't get too rough or do anything the other person feels uncomfortable with. A bit of sexy play-fighting foreplay can lead to extra passion in bed!