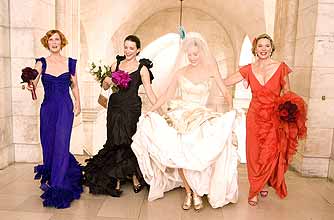 We've always loved Sex and the City here on goodtoknow, and since the film's come out we've rediscovered it all over again. But even if you never watched the show, our guide to relationships can still apply to you.
We've enlisted the help of relationships expert, Dr Pam Spurr to analyse the different relationship hang-ups that Carrie, Miranda, Charlotte and Samantha face along the way and how you can turn them around if you find yourself in the same boat. Whether you're scared of settling down, or find that men just never live up to your expectations, Dr Pam can help you get over your issues and make your relationship work.
Click through the different characters and see what advice Dr Pam has for each of them - and for you too!
Carrie - The commitment-phobe
Miranda - The workaholic
Charlotte - The hopeless romantic
Continued below...
Samantha - The sex addict