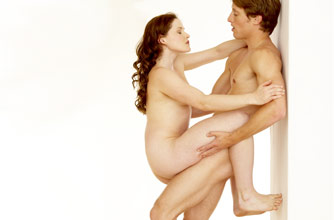 The Suspended Congress position is part of the ancient Kama Sutra.
You may think that the
Kama Sutra
isn't for you, but that couldn't be further from the truth! Anyone can try these positions, whether you're in a long-term married relationship or want some tips for when things get intimate with a new partner. And the Suspended Congress position certainly won't disappoint!
Don't be fooled by the standing up nature of this position. It may look tricky, but once your confidence has grown and you've mastered the balance, it'll be a position you go back to time and again.
The Suspended Congress can be incredibly exiciting one to try when you're in the throws of passion rather than when you're looking for a slower, more intimate experience. And the added joy of this sex position is that you really can try it anywhere - no bed required! Now all you need to do is decide how naughty you want to be.
Suspended Congress: How to do it
He lifts you and holds you under your bum. Your grip his waist with your thighs and push your feet against the wall to support yourself. Requires quite a bit of strength from him but the results are worth it. Might not be one to try after a couple of drinks, we don't want any accidents now!
What's great about it?
You get the thrill of doing it somewhere different. Whether it's the kitchen, living room, or (very daring) out somewhere and dare to nip off to for some 'alone time', you will love the thrill that comes with the Suspended Congress position!
Psst... Don't forget to try out some other
Kama Sutra
positions!
Kama Sutra rating:
3/4
Continued below...
Try this one in the daytime when you're feeling a little more energetic, rather than waiting for bedtime!