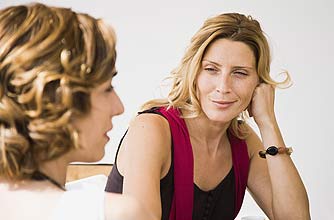 How you may be feeling
Your emotions will still be see-sawing. You may have started to sort out the practical elements of your split, such as childcare and work, but not dealt with how you really feel.
Your confidence may be low and you could feel depressed.
You may feel scared and that you could never trust again.
You'll feel drained. All the emotional upset really does take its toll on your energy levels.
How to get over a break-up: expert tip
Denise from Relate says: 'Keep some things familiar, so you know where you're at. This isn't the time to make rash, knee-jerk decisions - such as moving away - even if you feel like that would be the solution.
Having some routines you're used to will help you get through the bad times. The pain still remains inside you, no matter how far you move away. Allow yourself time to gather strength before making any major decisions.'
Continued below...
Key steps to take
Deal with the anger. If it's still eating you up you need to quash it now. Anger often masks what we're really feeling ? scared and sad. If you can let go of it you can start to move on.
Keep talking. Try to open up to friends and family about how you feel.
Avoid the blame game. If you keep questioning what went wrong? Why? How? What did I do wrong? you get locked into more bitterness and heartache.
Look at what you think may have gone wrong. It will be painful, but try writing your thoughts down or talking them through with someone you can trust. It will really help you move on.